1. Matterhorn

2. Hood Solo attempt winter 2006
3. Wallows backpack. 2006

4. Dog Mountain
5. Rock Creek Butte

Matterhorn in the Wallawas

Put a trip to Rainier on hold due to the weather forecast. The best forecast we could find was in Wallawas.
My friend krista and I drove Friday night to Wallawa Lake to meet with Jeff, his friend Travis, Rob, and Denise.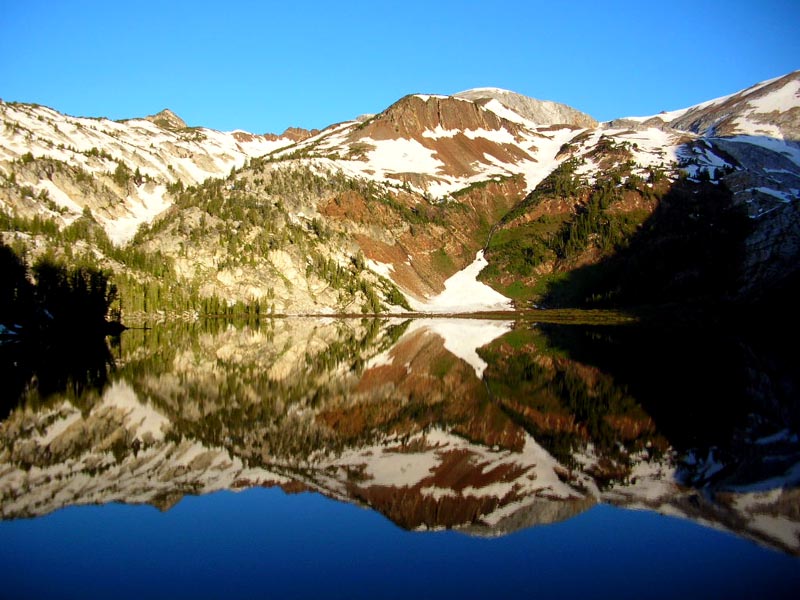 Weather was clear and warm. Started out around Noon for the 8 mile climb up to Ice Lake. Camped in a nice spot on the peninsula.
We discuss route options up to Matterhorn. I had climbed the Matterhorn a few years back and we took the east ridge. Great route but a lot more snow on it this time and looked like more work than we wanted to get into. Jeff and Travis took of on a route scouting mission and came back with good news of a route with a climbers path at the other end of the lake. Yahoo!!

We headed out around 5:30 am. Denise decided to head up with us.
The guys took off and I stayed with Action Betty as this was her very first summit
.
We gained the ridge that runs NE and came to a cross road. The route the guys took didn't look to good for Denise. She said "there is no way I am going up that". Found another route to the south up a north facing ridge. Dropped down to a snow saddle and up the ridge to a saddle filled with snow. Then on to this nice gently rolling plateau. From there turned West and headed up the East ridge to the summit where the guys where already waiting.
We summited and singed the register. First register for Denise, who never gave up and did a great job climbing her first peak.
Good job
!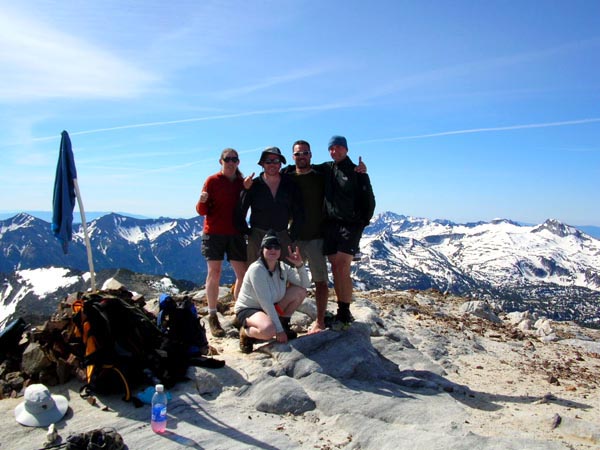 The views are fantastic. The summit it self is a marvelous weather worn granite. High alpine flowers are blooming.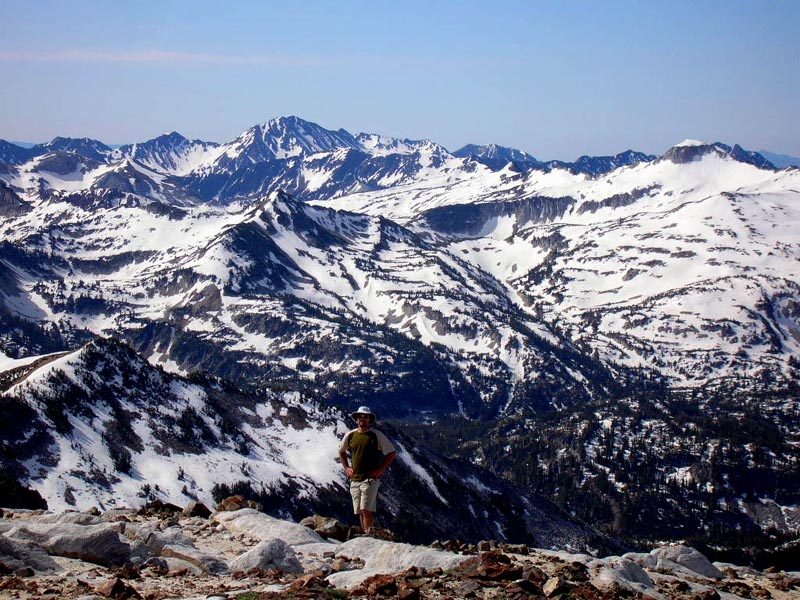 Decent was uneventful and fun. got down to camp and we all packed up and head back to the TH.

Ok...... so we are not even a mile down the trail and we are all some what spread over a large distance on the trail. I am tooling along and the next thing I know I fall flat on my face in the trail.... HARD.

I messed up my knees, so my decent time doubled as I had to gimp all the way down. They hurt pretty bad. As of this morning one knee is triple the size of the other and can't bend it at all. OUCH! I will learn to watch where I am walking someday


As I was gimping down I ran into NWhikers Backcounrty Blake and a friend who where headed up to do Matterhorn and Sacajewia. Wish We all had more time to chat.
Hope they had a great climb!

This was a trip I will always Cherish. Some fantastic, fun friends. Spectacular scenery, great fun climb, and absolutely perfect weather. Thanks guys.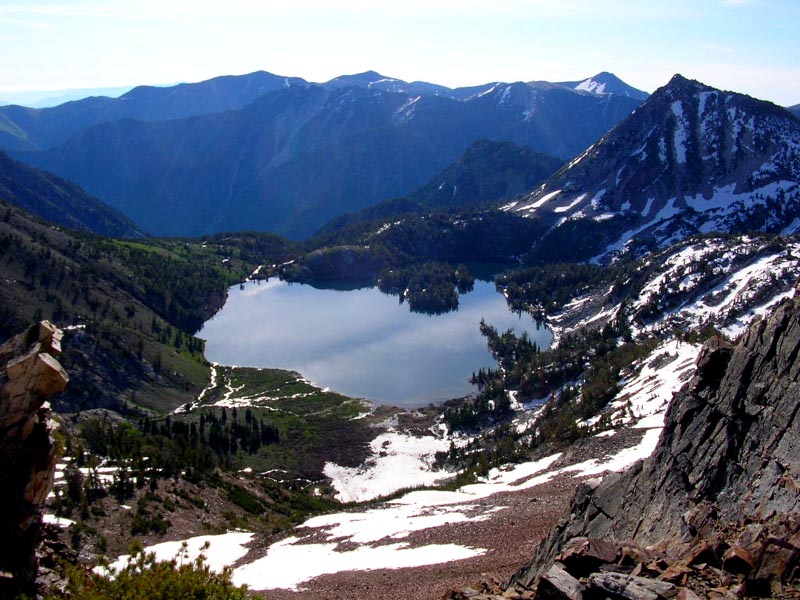 some stats:
19-20 miles RT
TH 4600'
Lake at 7800'
summit at 9826'

Mt Hood Solo Attemp...Febuary 2006
The year the Hogsback moved. Which turned the pearly gates into not so much of a walk up anymore.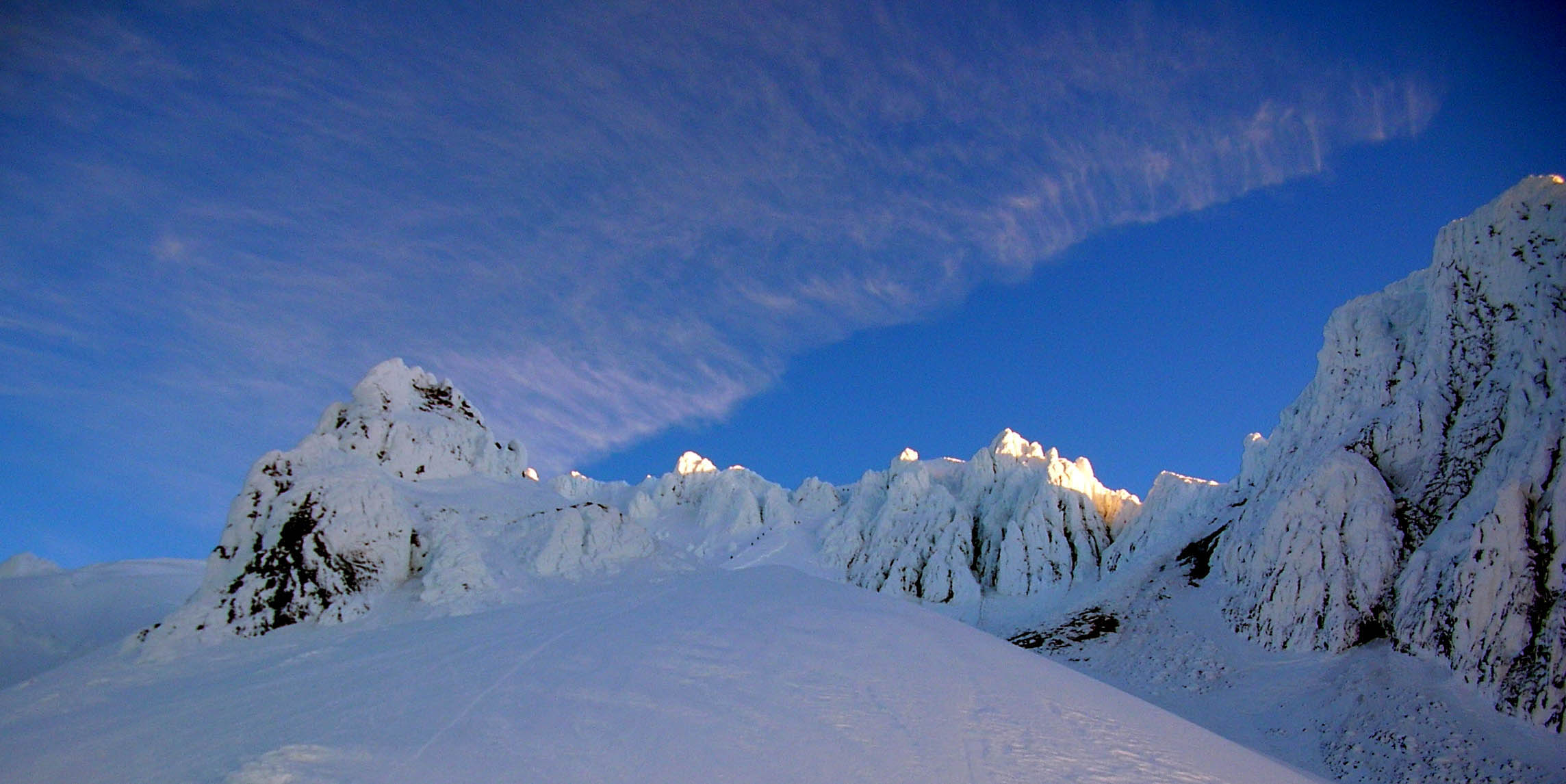 Nothing better than the music of crampons crunching in perfect climbing snow. All was perfect for this climb, The snow conditions are perfect, The moon was near full, the forecast was to hold out at least half of the day. What more could I want? Hmm... maybe a partner or second tool so could summit...grrr.

I have always wanted to climb Hood but never wanted to do it during the summer. I have this fear of being taken out by human cannon balls falling off Hogsback. I figured winter (which is the best time to climb Hood shhh don't tell)would be a great time to solo the Hogsback route if conditions were right.

I started out in the wee hours of the morning. I never took my head lamp out, the moon did a great job of lighting the way. It was beautiful. The lights form all the little towns and Portland twinkled down low. The wind was dying down and the temp was 20 degrees. There was noone in sight until a couple of guys met up with me around 7000'. The views with the moon were so beautiful I had to take a break at 8000' to take it all in and have some hot coffee and a snack. I sat for 45minutes...sooo beautiful! Around 6:30 the sun started to light the horizon. At this time I was around 9500'. I told Mania I would call him so I sat and took another break and called the family. By this time the sun was coming up and dancing all over Hood. I couldn't stop taking pics.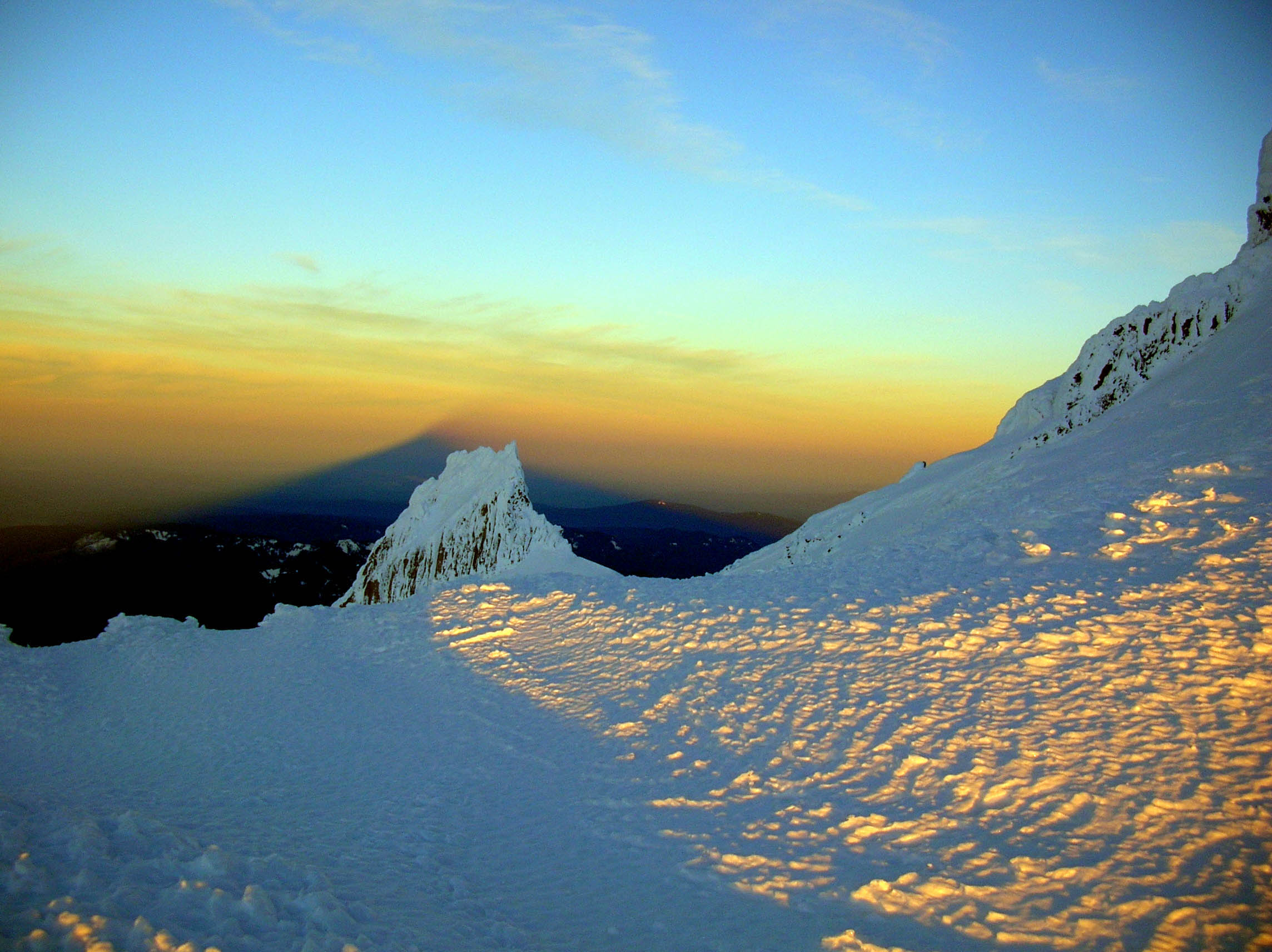 Right around 10000' as you would start to traverse a steep slope to gain Hogsback I could see the route clearly.




Hogsback route. dosn't look so steep from this angle.


I watched as people where moving very slow and front pointing up the Pearly Gates. Shoot this means it is icy! Not what I wanted to see being solo with no second too. I noticed some of the climbers were on belay also. It all looked a bit sketch for me being solo.

I asked a guy how it was and he said...." bad ice, I didn't like it" Shoot
! I was hoping for different conditions. Many times the gates are filled with good snow for kicking steps and other times it is icy. Just happened it was not in my favor today. I kept climbing up to Hogsback though, just to watch and get a closer look and ask a few others what it was like. As I was traversing the rock above let go of a bunch of ice the size of soccer balls and smaller down on me
. I heard a WHOOP then WHOOSH, WHOOSH ice flying down from above! Then smack into my legs. It was only a few small pieces that hit me but the big one came within inches. I about pissed my pants. That is all I needed was to be knocked off a steep slope.




The ice fall that hit me was right were those two climbers are.


I arrived at the gates it looked bad. 45+degree alpine ice. A fall from there would be one hell of a ride! I talked to some guys that just came down and they said, "it is really icy and a second tool helped." I was not comfortable doing this without a second tool or a partner. It just didn't feel right in my gut. I felt it was better to be safe than sorry ( I also have Josh to think about). I can always go back and finish it off another time when conditions are more in my favor and safer. I read today on CC.com there where people turning back Friday because of the ice and that this is some of the worse condition some have seen.


I walked the hogsback spine to the end and sat for an hour and had some breakfast. I watched the climbers that looked like spiders down climbing their way, whacking at the ice with their tools and ice axes to get a purchase down through the ice step. Took pics and had breakfast. What a beautiful mountain this is in the winter.